Puffin Web Browser
8.3.1.41624
When Flash ruled the Internet
In the beginning there was HTML, but not much else. It was a time of boring web pages with no room for spending hours on ludic activities. Then Flash came and (as the name fatefully implied) it rejuvenated the web with its flashy and smoothly animated content. Well, "smooth" may not be the right word because usually the thing ate your computer's resources like a big thirsty leech. Today it is more of a fossil than anything else. Nonetheless, it paved the way for browser gaming and sites like Miniclip or NewGrounds became the Mecca for users of all ages. However, this browser extravaganza has been all but forgotten in the age of the mobile internet. Flash has been successfully tamed into playing videos and other non intrusive graphic aspects. Puffin Web Browser is determined to bring it back to its former glory.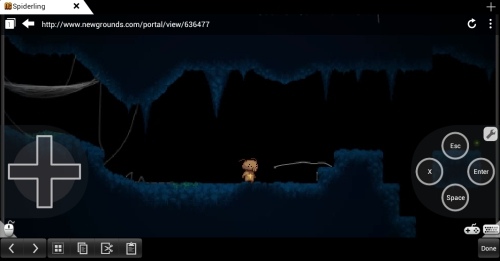 Heavy flight load
Playing a traditional flash game on a tablet feels like trying to juggle puffins with your hands tied behind your back. This bird is special though. Puffin's main "flight" characteristic is that it offers a virtual track pad and game pad in order to make flash games playable again. Quite a worthy endeavour since Flash is still the same bloodsucking critter we all knew since the last decade. Common sense suggests that a puffin can't fly very well with leeches attached to its chest. I must apologize for the graphic nature of this description but frankly, the task of running web pages with serious Flash content should be reserved to at least an albatross or better yet, a Pteranodon.
Running browser games on a tablet is unnecessary today as you can find many of the classics on Google Play or iTunes, not to mention a host of other similar games. However, brushing the flash aside we are left with a pretty fast web browser. Puffin can load pages at a great speed and that should be the main reason you'd want to get it.
As for the game control elements, these are actually quite useful when navigating on a regular web page. The track pad uses a real cursor that excels at selecting links without having to zoom in for better accuracy and the game pad brings back the directional buttons (if anybody missed them).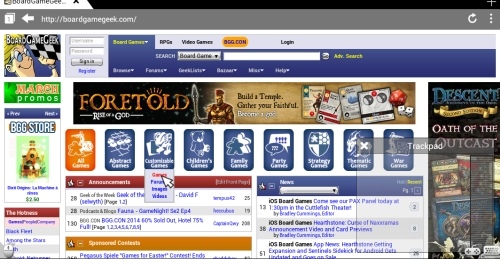 Features
Integrated Flash support – Runs available flash content on pages. Such as flash games, flash video and other content
Theatre Mode – The interface adapts to the needs of a flash video or game
Track pad and game pad – Virtual tools to play flash games. They simulate directional keys and mouse pointing and clicking
Add-on support – Can be enhanced with add-on's such as Facebook, Evernote and others
Download to cloud – Access a downloaded file from anywhere
Multiple tabs - keep multiple pages open at the same time
Bookmarks – save pages of interest
Speed Dial – quickly access frequently visited pages from the home screen
I for one do not care about the amazing Flash support Puffin Web Browser is gloating about. What I do like is the page load speed and track pad. If you know how frustrating tapping on the wrong link can be, this is a life saver.
Pros
Speed – Puffin Web Browser is a fast flyer
Track pad – This is immensely useful for accurate clicking
Add-ons – There aren't that many yet but it's good to know its open for customization
Cons
The free version only supports Flash during the day – because puffins sleep during the night obviously
Ads – Quite annoying
Rich Flash content stutters a lot – We should probably wait for better hardware
Conclusion
If you value speed and would love a more accurate tapping method then Puffin Web Browser is a very good choice.
RELATED PROGRAMS
Our Recommendations
---
---
---
---